The King of Fighters 2002: Unlimited Match is a remake of The King of Fighters 2002 made by SNK Playmore. It features new teams, a new visual layout, new game balancing, new desperation moves and spliced artwork during super attacks. Several teams have a different theme from their previous appearances, and many teams have brand new compositions written for them. Like in The King of Fighters '98 Ultimate Match, this game also includes a Neo Geo adaption of the original version and a gallery of the older illustrations made by Nona, but only on PS2 version.
The main illustrations for this game were done by Hiroaki. The soundtrack has been completely redone and is composed by Yasufumi Fukuda, Makoto Asai, Teruo Konishi, and a new arranger named Two-Five. The game was released on February 26, 2009 for the PlayStation 2 in Japan and was released as a download for the Xbox Live Arcade network on November 3, 2010. The PC version of the game, initially released for the arcades, has been released on the platform Steam in February 27, 2015, and for Humble Bundle, in January 9, 2016. Like the Xbox Live version, it does not include the Neo Geo version. [1][2] [3]
Due to balance changes introduced for the 2010 Super Battle Opera tournament, an updated version of the game was released for PlayStation 2 called The King of Fighters 2002 Unlimited Match Tougeki Ver. on June 24, 2010. The hidden boss characters have been disabled (although, with a save modified from the original game, can still be played) and new balance adjustments for several characters have been made. The game is otherwise the same.
Gameplay
The gameplay in The King of Fighters 2002: Unlimited Match is the same as The King of Fighters 2002: Challenge to Ultimate Battle, except that the HSDM command has been simplified without needing a series of button presses.
Characters
K' Team
Japan Team
Fatal Fury Team
Art of Fighting Team
Ikari Warriors Team
Psycho Soldier Team
Women Fighters Team
Pretty Girls Fighters Team
Korea Justice Team
Asian Triple Alliance Team
New Faces Team / Orochi Team
'97 Special Team
Yagami Team
Agents Team
Masters Team
Mid-Bosses
NESTS Team
Clones Team
Single Entry
Bosses
Special Boss
Single Entry Bosses
Special Edit Teams
KOF '02 UM Team
Former Art of Fighting Team
Ryo Sakazaki
Robert Garcia
Takuma Sakazaki
Former Psycho Soldiers Team
Athena Asamiya
Sie Kensou
Chin Genstai
Former Women Fighters Team
Mai Shiranui
Yuri Sakazaki
May Lee Jinju
Fatal Fury's Women Team
Mai Shiranui
Blue Mary
Li Xiangfei
Art of Fighting's Women Team
King
Yuri Sakazaki
Kasumi Todoh
Justice Team
Kim Kaphwan
May Lee Jinju
Athena Asamiya
'94/'95 Ikari Warriors Team
Heidern
Ralf Jones
Clark Still
Kids Team
Giants Team
Chang Koehan
Maxima
Goro Daimon
Japanese National Sports Team
Hinako Shijou
Goro Daimon
Kasumi Todoh
Older Brothers Team
Terry Bogard
Ryo Sakazaki
Billy Kane
Sunglasses Team
Clark Still
K'
Choi Bounge
Glamorous Team
Mai Shiranui
Shermie
Angel
Mature Ladies Team
Fathers Team
Kim Kaphwan
Takuma Sakazaki
Goro Daimon
Hurricane Team
Joe Higashi
Choi Bounge
Goenitz
Fatal Fury Villains Team
Billy Kane
Ryuji Yamazaki
Geese Howard
Orochi Boss Team
Goenitz
Omega Rugal
Geese Howard
NESTS Bosses Team
Any team consisting of only Krizalid, Zero, Original Zero, or Igniz.
Stages
Note 1: In PS2 version, the stages are in 3D. In the Xbox 360 and PC versions, they are in 2D.
Note 2: Geese and Nightmare Geese don't have an associated stage.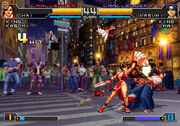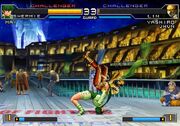 Besides these, repaginated versions of the stages of NESTS Saga's bosses and console exclusive Omega Rugal's stage (also seen in normal console version of KOF 2002) are be available.
Gallery
Trivia
See also
References
External Links
Community content is available under
CC-BY-SA
unless otherwise noted.