Super Smash Bros. Ultimate is the sixth and latest installment of the Super Smash Bros. series. It was first announced during a Nintendo Direct on March 8th, 2018, before being fully shown off at E3 that year.
Connection to the SNK fighting series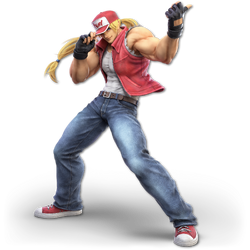 Terry Bogard was announced to be the fifth DLC character and the fourth character in the Fighters Pass in a Nintendo Direct on September 4th, 2019, and released on November 6th, 2019. Terry wears his well-known second outfit that debuted in Fatal Fury 2, but with The King of Fighters 2000 default color tones, while his animations are modeled after The King of Fighters XII onwards. His special moves involve his iconic special moves: Power Wave serves as his neutral special move, Burning Knuckle and Crack Shoot serve as his side special moves (with the ability to use the latter by pressing back on the control stick), Rising Tackle serves as his up special move, and Power Dunk serves as his down special move. If his damage reaches over 100%, he has the ability to use special inputs to perform either Power Geyser or Buster Wolf. His Final Smash combines Triple Geyser, Power Dunk, and Buster Wolf into a move dubbed "Triple Wolf". He comes with his own stage named "King of Fighters Stadium", with the following 20 characters being visible at random in the background: Andy Bogard, Joe Higashi, Geese Howard, Rock Howard, Billy Kane, Tung Fu Rue, Kim Kaphwan, Ryuji Yamazaki, Blue Mary, Ryo Sakazaki, Yuri Sakazaki, King, Kyo Kusanagi, Goro Daimon, Iori Yagami, Athena Asamiya, Chang Koehan, Choi Bounge, Ralf Jones, and Clark Still.
In addition to Terry, the Mii Fighter got three new skins based on Nakoruru, Ryo Sakazaki and Iori Yagami. The DLC pack also comes with 50 music tracks, including tunes from the Fatal Fury series, Art of Fighting series, The King of Fighters series, Metal Slug series and Samurai Shodown series, as well as a few select tracks from Alpha Mission, Athena and Psycho Soldier. Spirits for Andy Bogard, Joe Higashi, Kim Kaphwan, Geese Howard, Ryo Sakazaki, Kyo Kusanagi, Iori Yagami, Haohmaru, Nakoruru, Athena Asamiya, and Ralf Jones and Clark Still (as one Spirit) can also be obtained.
Trivia
Terry's reveal trailer makes several references to other SNK titles:
Terry's inclusion in the game marks the second time Capcom, SNK, and Square Enix (and, more specifically, Street Fighter, Fatal Fury, and Final Fantasy) have crossed over in a fighting game developed by Bandai Namco, as Akuma, Geese, and Noctis previously crossed over in Tekken 7.
SSB Ultimate also marks the second game to initiate the clashing return between SNK and Capcom, many years after the SNK vs. Capcom crossover series, with the first game being Tekken 7 as already mentioned above.
The game is also the second time SNK and SEGA collaborated together, the first being Mai's appearances with the Virtua Fighter cast in the fifth Dead or Alive game.
One major character that is absent from the game in any major capacity aside from the music and the reference is Mai Shiranui. In the presentation issued by Nintendo on the day the content was released, Masahiro Sakurai explained that, in order to keep the CERO rating Ultimate has in Japan (being an A for an all-ages rating; KOF XIV, for example, has a C rating, for ages 15 and up), Mai had to be left out of the game due to her iconic outfit being too sexually suggestive (although the game however, like the previous titles, still featured several elements would feel out of place for a family-friendly video game played by younger players). Since the ESRB and PEGI use different rating system standards than the CERO, the translation instead said that Smash "is for good boys and girls of many different ages", in a tongue-and-cheek manner.
To acquire Spirits, the player must complete all of their respective Spirit Battles. The character choice, stage, music, and match conditions contain references for the following characters and their respective series: 
Videos
External links
Community content is available under
CC-BY-SA
unless otherwise noted.