GTA: The Criminal Enterprises - The Loop
Play Sound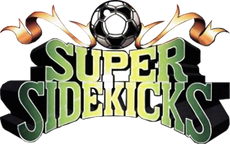 Super Sidekicks (特点王 Tokuten Ō in Japan), is a series of football (soccer) video games made by SNK for the Neo Geo.
Published in 1992, the original Super Sidekicks was SNK's first MVS soccer video game (the first soccer game was Fighting Soccer, 1988 on Triple Z80 based hardware). It features 12 teams divided into two groups which compete for the "SNK Cup" (the main differences between teams is their formations on the field):
Group A: Germany, Italy, Spain, England, Mexico, Japan
Group B: Argentina, Holland, Brazil, France, United States, South Korea
The player's team plays against all the others in that group, then it goes into an elimination tournament's semifinals and then the final to win the cup. There was also a hidden feature in the game, which wasn't documented, and affects a single player game: during a free kick for the CPU if the player has tapped button A for player two, the CPU performs a short-shot, while pressing the button A makes it perform a longer kick.
As part of ACA Neo Geo, the game was released in July 27, 2017 for PS4, Xbox One and Nintendo Switch.
Published in 1994 (Japanese title: 特点王2 リアルファイトフットボール Tokuten Ou 2 - Real Fight Football), the sequel corrected most of the flaws in the original's design, including the ability to switch players' control during the game, a smaller goal, and no more long shots taken (in Super Sidekicks 1 the simple long shot was sometimes too long, leading into a throw-in situation). It increased the number of teams to 48 and divided them into 6 geographical zones:
Europe A: Italy, England, Holland, Spain, Switzerland, Norway, Turkey, Ireland
Europe B: Germany, France, Russia, Greece, Bulgaria, Sweden, Belgium, Romania
Americas/Oceania: United States, Mexico, Canada, Australia, New Zealand, El Salvador, Honduras, Costa Rica
Asia: Saudi Arabia, South Korea, Japan, United Arab Emirates, Hong Kong, Taiwan (as Republic of China), Iran, China
South America: Brazil, Argentina, Colombia, Bolivia, Paraguay, Uruguay, Ecuador, Peru
Africa: Cameroon, Morocco, Nigeria, Egypt, South Africa, Côte d'Ivoire, Guinea, Zambia
When you start the game, you go into a "Regional Qualifying Round Final" against another team from your region, under the same principle of the World Cup Qualifiers. After beating it, your team goes into the World (Cup) Tournament, in which you are grouped with 4 other countries in a round-robin. After winning against all of them, you go into an elimination tournament: the quarterfinals, semifinals, and the final for the World Cup. This type of tournament thus is more reminiscent of the real-life World Cup. If a match ends in a draw, you also have the option of replaying a full game, go to the penalty kick tiebreaker, or play a sudden death (golden goal) game (the golden goal feature was not present in the original Super Sidekicks); however, in the arcades, the player must insert another credit to play any of the tiebreakers.
All subsequent Super Sidekicks games followed the same design and gameplay as Super Sidekicks 2.
Published in 1995 (Japanese title: 特点王3 栄光への道 Tokuten Ou 3 - Eikoue no Michi, "Goal-Scoring King 3: Path to the Glory"), the third game features 64 national teams divided into 8 regions:
Europe A: Italy, Holland, Switzerland, Norway, England, Turkey, Portugal, Poland
Europe B: Germany, Spain, Ireland, Belgium, Romania, Denmark, Wales, Czech Republic
Europe C: France, Sweden, Bulgaria, Russia, Greece, Austria, Hungary, Finland
Africa: Nigeria, Morocco, Cameroon, Egypt, South Africa, Zambia, Côte d'Ivoire, Guinea
Americas: United States, Canada, Guatemala, Mexico, Costa Rica, El Salvador, Puerto Rico, Panama
South America: Brazil, Colombia, Argentina, Bolivia, Uruguay, Ecuador, Peru, Chile (replaces Paraguay)
Asia A: Australia, New Zealand, China, Taiwan, Iran, Vietnam, Iraq, Singapore
Asia B: Saudi Arabia, South Korea, Japan, U. A. E., Hong Kong, India, Thailand, Malaysia
The World Tournament mode is the same as Super Sidekicks 2, above.
The new features in this game include naming the player scoring goals for his team and keeping score of how many goals he scores during his team's use by the player. Alongside the "Top Teams" ranking which serves as a high score table for teams, there is a "Top Scorer" table for individual players. The player can keep track of the team members by holding the A and B buttons while starting the game. Many of these players' names reference real-life football stars of the time, such as Brazil's Roman (based on Romário) and Argentina's Bautista (based on Gabriel Batistuta).
The second new feature include regional tournaments, in which a team (from any region) can enter a tournament within its own region or other regions. This is good for those players who like a particular team but don't want to be facing the same opponents every time, as they would if they played the World tournament.
The game was re-released three years later under the name Neo Geo Cup '98: The Road to the Victory. In order to mirror the 1998 FIFA World Cup, some player names and teams were changed:
Croatia replaced Poland
Scotland replaced Wales
Yugoslavia replaced Finland
Tunisia replaced Guinea
Jamaica replaced Panama
Paraguay returned and replaced Bolivia
However, the game played and looked exactly like the original Super Sidekicks 3. Even the goal animations remained unchanged.
Published in 1996 (Japanese title: 特点王 炎のリベロ Tokuten Ou - Honoo no Libero, "Goal-Scoring King: The Flaming Libero"; despite the international title, it is still considered the fourth game in the series), it features 80 national teams divided into 8 regions:
Europe A: Italy, Spain, Portugal, Wales, France, England, Ireland, Scotland, Northern Ireland (as North Ireland), Iceland
Europe B: Germany, Sweden, Belgium, Denmark, Austria, Holland, Switzerland, Norway, Finland, Croatia
Europe C: Bulgaria, Russia, Turkey, Czech Republic, Romania, Greece, Hungary, Poland, Slovakia, Israel
Africa: Nigeria, Cameroon, Zambia, Côte d'Ivoire, South Africa, Egypt, Morocco, Zimbabwe, Tunisia, Algeria
Americas/Caribbean Sea: United States, Canada, El Salvador, Panama, Guatemala, Mexico, Puerto Rico, Costa Rica, Jamaica, Honduras
South America: Brazil, Colombia, Bolivia, Paraguay (returns from Super Sidekicks 2), Chile, Argentina, Uruguay, Ecuador, Peru, Venezuela
Asia/Oceania A: Saudi Arabia, India, Iraq, U. A. E., Iran, Qatar, Oman, Bahrain, Kuwait, Uzbekistan
Asia/Oceania B: Australia, China, Taiwan, Thailand, New Zealand, South Korea, Japan, Malaysia, Hong Kong, Singapore
The players scoring the goals are still named, but individual scores are no longer kept. The regional tournaments have been eliminated and replaced with alternate mode the SNK Football Championship, which is the game's namesake, an elimination tournament in which your team can select any one opponent from any region to play (similar to fighting games in which you face another character after beating a previous one until you reach the boss). The last region you play is the deciding match. If you're good and can make a lot of goals on your opponents, you can play a hidden boss team called the SNK Superstars, which features characters from SNK's fighting games as players (you can tell them when their names are called, as during fouls).
It's in the basic game play where The Ultimate 11 has its most deciding improvement. Teams now have a charge bar (similar to the one in fighting games), which is charged depending on how long you can keep the ball under your team's control; losing possession will cause the gauge to deplete itself until the ball is recovered, whereupon it will recharge. When the bar is fully charged and flashing, if you're near the goal, you can take a shot that is virtually unblockable, depending on the opposing team. Teams are "ranked" from 1 to 80 mirroring their real-life counterparts.
The Ultimate 11 was one of the few Neo-Geo games to feature a corporate sponsor: Akai. Due to the contract lapsing, the Akai branding was removed from the ACA NeoGeo re-release in 2019.