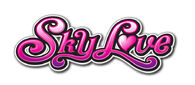 Sky Love (スカイラブ) is a Japan-only pachinko slot machine that was developed and released by SNK-Playmore in February 2007. It's an action-adventure game that revolves around sky pirates. The character designer for this game is Nonko. A sequel, titled Sky Love 2: Sky's Reunion (スカイラブ2~再会の空~, Sky Love 2 Saikai no Sora), was announced at the 2008 Tokyo Game Show, and three other sequels, Sky Love III, Sky Love IV, and Senki no Kiseki ~SKY LOVE~ were later released as well.
Story
Once long ago, the world lived in the sky. The sky was peaceful until the captain of the Peace Pirates was murdered by the Devil Pirates. To restore tranquility, Love Heart inherits her father's mantle as captain of the Peace Pirates and hunts down Skull D. Falcon, her father's murderer.
Overview
The game plays as other pachinko games from SNK. The scoring system is slightly limited as points are only earned by horizontal results. Players can play through various stages to progress through the story based on the reel results. Love's crew will perform various events to give players different chances at bonuses. Bonus stages can lead to treasure hunts, special battles with the Devil Pirates, or a final battle sequence with Falcon's crew. Succeeding in these Bonus events triggers a Challenge bonus stage, where players will have to reach a certain point number during the cinematics to continue playing. A Big Bonus can reward a Replay credit or special CG art. The rarest and hardest to obtain Bonus sequence is the one where Earth proposes to Love.
Players can also be randomly awarded with an outfit for Love, adding the extra ability to customize her appearance.
Characters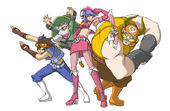 Peace Pirates
Earth Justice - young recruit who fishes for food. Has a crush on Love.
Raiko Tanaka - crew's sorcerer. He will use his magic to guide Love on her journey.
Zack Might - caretaker of the ship and the crew's muscle man.
Devil Pirates
Skull D Falcon - antagonist and captain of the Gigante.
Silvia Rose - female henchmen to Falcon. Prideful of her ability to hold her liquor.
Gaston Ton - strongest of Falcon's crew. Earth declares him his rival.
External Links
Community content is available under
CC-BY-SA
unless otherwise noted.