Raise a Floppa - The Loop
Play Sound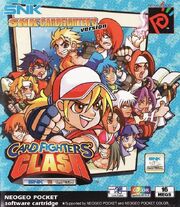 SNK vs. Capcom: Card Fighters (SNK vs CAPCOM カードファイターズ) is a series of SNK games between 1999 and 2006 for hand-held consoles.
Games
This game has a collectible trading card theme, spun off from the popular series of fighting games by SNK and Capcom, and also including references to many other kinds of games from both companies. The game uses cards based on Capcom and SNK characters from a variety of earlier and newer games. The first two versions of this game were released for Neo Geo Pocket Color, and a version for the Nintendo DS was released.
SNK vs. Capcom: Card Fighters' Clash (激突 カードファイターズ SNK vs CAPCOM Gekitotsu Card Fighters SNK vs CAPCOM) is the first game of this series, released in 1999, it is the first crossover between the two companies, all characters being illustrated in super deformed style. There are two versions of the game, complementary between them: the SNK version and the Capcom version. The main characters in this game, Shin and Cap, later appear in the SNK vs Capcom manhua.
A Japan-only sequel to SVC: Card Fighters' Clash called "SNK Vs. Capcom Card Fighters 2 Expand Edition" was released in 2000, after Capcom vs. SNK 2. In addition to the 240 "Character" and 60 "Action" cards from the first game, 124 new cards are included in this sequel. Included in these new cards are 40 "Reaction" cards. Reaction cards are similar to Action cards, but they can be used during the opponent's attack. Also, the character cards that were in SVC: Card Fighter's Clash now have new super deformed illustrations made by a different artist. Another new feature is special character cards with alternate versions of various characters depicted with regular artwork instead of the super deformed style.
An English translation of Card Fighters 2 is now available in the form of a fan translation patch to the original game file. This project is aimed at bringing the second Card Fighters game to a wider audience.
This Nintendo DS game was released on December 14, 2006 in Japan and was released on April 24, 2007 in the United States. The gameplay, mechanics, and cards were replaced with an almost entirely new system. In addition, in this version:
External links
Gallery