SNK Heroines Tag Team Frenzy (SNKヒロインズ Tag Team Frenzy) is a 2.5D 2-on-2 tag team fighting game and a spiritual successor to SNK Gals' Fighters which also feature various female heroines from the SNK universe. The arcade version titled "SNK Heroines: Tag Team Frenzy AC" started running on Taito's NESiCAxLive 2 on October 11, 2018.[1]
This game's crossover characters are featured as part of the collaboration with Square Enix's Million Arthur: Arcana Blood (a fighting game adaption of the online free-to-play Million Arthur card game series) and Arika's latest original non-licensed-based game Fighting EX Layer.
The main illustrations were done by Eisuke Ogura.
Storyline
Kukri's obsession for women caused him to create a pocket dimension where women fighters must survive in his universe and join forces and slug it out with other women, genuine and otherwise...
Gameplay
SNK Heroines: Tag Team Frenzy is a 2-on-2 fighting game and can have up to four players clashing in either local play or online.
Utilizing the Spirit Gauge, players can activate Special Moves with a single button, and make use of special items to change the tide of battle. When the Spirit Gauge is low, attacks will be weaker, so players can swap between characters. When enough health has been chipped away from an opponent and their Life Gauge is red, players can use their Dream Finish technique to win the match. It also has universal Air Dash and Jump Cancel. However, it lacks of Crouching button and its attacks.
SNK Heroines: Tag Team Frenzy allows spectating of other battles online, and allows viewers to wage on who they think will win using in-game points. Winnings can be used to buy voice clips and over 140 accessories in an all-new costume system, to customize heroines. Each heroine has three base costume choices that can be further accessorized and four different voice sets. Accessories include everything from hats to wings. While these costumes can be used in battles, players can also have their heroines pose for photoshoot with special backgrounds and stamps.
Extra online game functions include Quick Play (can also earn in-game currency here) and an 8-player Room Match.
Characters
Stages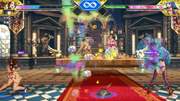 Grand Hall: The hall of the castle where the fighters are imprisoned. Can be seen a red carpet, banners, stained glasses, candelabra, pillars and statues statues referencing Kukri.
Passageway: A white hall. Can be seen statues, sun beams, chandeliers, chairs, pillars, a big door and wind roses in the floor, besides a portrait of Kukri's win pose in The King of Fighters XIV.

Note: Sometimes, Kukri appears in the background, with the open door.

Courtyard: A balcony, in a sunset. Statues and flower arrangements decorate the stage. Also can be seen doors, stairs and pillars.
Dining Room: A giant and gorgeous dining salon. Can be seen pillars, the principal dinner table with a bouncing kettle, windows, doors with curtains, a fireplace, a handrail and candlesticks, besides a portrait of Kukri.
Library: A two-story library with a giant statue of Kukri. Can be seen books on the shelves, in the second floor, stairs giving access to the ground floor, a large stained glass window and lamps, besides flying books and the two doors of the stage.
Occult Mansion: A balcony falling apart. Can be seen torn banners, pillars, lamps, candlesticks and loose stone tiles, besides a giant statue with hood, containing the energy of the female fighters.
---
Audience Chamber: An giant and empty stone arena. Can be spotted big pillars, banners, doors, torches and a throne, besides a energy ball in the background. Associated with Kukri.
---
Development
After The King of Fighters XIV was released, the development team decided to start a new project with female characters from SNK games.[2] SNK Heroines was developed at the same time as the The King of Fighters XIV DLC and uses the same game engine as that game with some customization.[3]
The team decided to use SNK female characters since they were popular worldwide.[4] The basic idea was to create a spiritual successor to SNK Gals' Fighters,[5] while, at the same time, the team tried to steer away from making a rehash of it but a completely different and new game within the concept of using female fighters.[2]
The main objective of the game is make it possible to laugh when playing it, whether the player wins or loses, similar to a party game or professional wrestling.[6] Oda explained that the idea is that not only players, but also spectators can enjoy the battle with its comical looks, which contrast with gauge management and rules.[6] The target audience was aimed at both newcomers, with the simple controls, and experienced games, with the mind games involved.[4] The team focused its efforts into creating a fun atmosphere in the game so that SNK fans look at that side of things.[7]
For the selected female characters, popular ones were selected and characters that the team wanted to make more popular, as well as few special guests.[6] According to Oda, he would've liked to add Cathy from Top Hunter: Roddy & Cathy, and the team was lucky to be able to add Jeanne D'Arc from the World Heroes series.[6] Terry Bogard's female version was the very first thing decided during the development of the game as his design would allow his gender bent version to be easily recognizable.[5]
A customization element, with outfits and accessories, was added to the game as Oda and his team thought that this system would be enjoyed more in this type of game than in a The King of Fighters title.[4] This also allows to take pictures to share on social media and so on.[8] An uncommon trait for SNK games is the two vs. two battle system.[8]
As part of the effort to make the game more accessible for all kinds of players, the Dream Finish mechanics was tailored specifically for those who aren't good at combos, and this was important for the development team since it allows people who aren't particularly great at fighting games to enjoy the game.[2] The game still requires practice and to learn how to play, but the Dream Finish system makes it more welcoming.[2]
Since the game was developed specifically for consoles, the team focused on easy to use controls, so that when pressing a button and the analog stick in a direction, a special attack is performed, so the focus of the players should be on SP management and on how to use items, making a kind of complexity that differs from other fighting games.[7]
Theme Songs
Calling Heart
Music & Lyrics: Naoki Kita
Vocals: Ai Kakuma (as Yuri Sakazaki)
Sivilelu Passion
Music & Lyrics: Naoki Kita
Vocals: Mio (as Sylvie Paula Paula)
cresc.
Music: Satsy
Lyrics: 7chi
Reception
SNK Heroines Tag Team Frenzy received "mixed or average" reviews on Metacritic holding a metascore of 60/100 on both PS4[9] & Nintendo Switch.[10]
Trivia
Since Sky Love's rights were sold by SNK in 2016, Love Heart has been used under license from Highlights Entertainment (company already bankrupt). As a result, Love has been excluded in various SNK Heroines merchandise. Although it still appears in some other promotional materials.
In this game, each move's character evokes traits of their personalities:

Athena: stars, animals and strawberries;
Kula: ice creams, snow statues and snowflakes;
Mai: Japanese fans, sakura and New Year items and foods;
Yuri: the Kanji of Kyokugenryu karate, desserts and dishes of Japanese curry;
Leona: vegetables;
Nakoruru: animals;
Shermie: hamsters;
Sylvie: eyes and fingerprints;
Zarina: flowers, Brazilian musical instruments and toucans;
Love: hearts and playing cards;
Mian: money ciphers, precious stones and money notes;
Luong: lotus flowers, cosmetics and codes;
Mui Mui: pandas and Chinese foods;
Terry: wolves, monkeys and classic NEO GEO cabins;
Thief Arthur: treasures and looting;
Skullomania: skulls, doves and bones (also can be seen a fridge and a table in one of her Finish Moves);
Miss X: musical instruments, all with Kyo's face, Kyo's stylized doll and dishes of Japanese food;
Jeanne: cocktails, desserts, frying pans and pans.
Gallery
Trailers
SNK Original Characters Trailers
DLC Guest Characters Trailers
See also
References
External links
Community content is available under
CC-BY-SA
unless otherwise noted.