Dead Cells Final DLC - The Loop
Play Sound
SNK Gals' Fighters is a 2-dimensional 1-on-1 versus fighting game which appeared on the Neo Geo Pocket Color in 2000. It featured female characters from various SNK franchises, where the characters compete in the aptly-named The Queen of Fighters tournament, organized by a mysterious "Miss X", with whoever being able to defeat "Miss X" (in reality, Iori Yagami dressed as a woman) being given the K' Talisman, which grants any wish. The characters sprites were drawn in the same anime super deformed style as other fighters on the system.
A spiritual successor, SNK Heroines Tag Team Frenzy' was announced and released for the Nintendo Switch and PlayStation 4 in Summer 2018, and for PC (Steam) in February 21, 2019.
Gameplay
The game plays similar to similar games on the Neo Geo Pocket system, such as The King of Fighters R-1 and The King of Fighters R-2, although slightly faster, and with 1-on-1 matches instead. It also features items that a player can equip to influence the matches. Many of the items however have no effect on the gameplay.
Characters
Playable Characters
Hidden Characters
Boss
Stages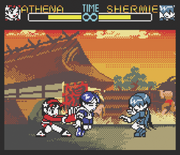 Giza: The fight takes next to the Three Pyramids. Can be seen a jeep with people cheering and the moon.
Bali: A ring. Can be seen temples, people and vegetation around the stage.
Beach: A beach in a sunny day. Can be seen the ocean, palm trees, people in bath costumes, sandcastles, beach balls, penthouses and sailboats.
Amusement Park: An amusement park next to a bridge. Can be seen a ferris wheel, spotlights and neon lights.
Castle: The terrace of a castle, in a night of full moon. Can be seen the towers and other castles.
---
Salon: A giant salon. Can be seen a red carpet, chandeliers, statues and a throne. Associated with Miss X.
---
Gallery
Trailers