Fire Emblem Warriors: Three Hopes - The Loop
Play Sound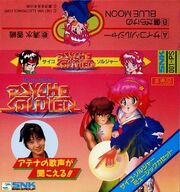 Psycho Soldier (サイコソルジャー) is a 1986 song for the game of the same name and is the first vocalized song in video game history. The song is also one of the main character themes for Athena Asamiya and continues to follow her in The King of Fighters series. When the game Psycho Soldier was released internationally, a different set of lyrics was composed to localize the title. This song was also used to advertise the Athena NES port.
The Japanese version is sung by Kaori Shimizu and the original lyrics were composed by Eikichi Kawasaki. It was covered by Reiko Fukui in The King of Fighters '94, Tamao Sato in The King of Fighters '96, and Yukina Kurisu in The King of Fighters '97. The identity of the singer for the English version used in the international release of Psycho Soldier remains unknown. Haruna Ikezawa would cover the song in The King of Fighters XV.
The band, From the Ashes, rearranged the English version and posted it online.
The song was included in Super Smash Bros. Ultimate as part of the Terry Bogard DLC. This version is arranged by Yuzo Koshiro and has both a Japanese and English version (the first time the song was sung in English officially since Psycho Soldier's US release), both versions sung by Kotera Kanako. The two remixes are identical in background music, though as the Japanese version features more lyrics, the English version features a saxophone solo in place of the second verse, and a reprisal of the first verse in place of the third verse.
Lyrics
Japanese Version
Lyrics

Saiko bōru ga hikari hanachi

Atena no sugata terashidasu no

Saiko sōdo ga yami wo saite

Atena wa yume wo sukui dasu no

Saiko pawaa wo kokoro ni himete

Hateshinai michi wo hashiru

Ima wa mō aozora mienai kedo


*(Faiyaa! Faiyaa! Saiko sorujaa! x4)


Saiko sōdu ga yami wo saite

Atena wa yume wo sukui dasu no

Saiko biimu no kagayaki nokoshi

Atena wa mirai wo motome tabidatsu

Honō no yōni moeru hitomi

Kibō no kakera wo mitsume

Ima wa mada namida wa misenai wa


*repeat


Saiko biimu no kagayaki nokoshi

Atena wa mirai wo motome tabidatsu

Dare hitori shiranai ashita

Hi no tori no sugata karite

Honō no yōni moeru hitomi

Kibō no kakera wo mitsume

Saiko pawaa wo kokoro ni himete

Hateshinai michi wo hashiru

Saiko pawaa

English translation

The Psycho ball's light bursts

And Athena's form shines

The Psycho Sword cuts through the darkness

Athena saves dreams

She hides the Psycho Power in her heart

To run on the endless path

Though she now can no longer see the blue sky


*(Fire! Fire! Psycho Soldier! x4)


The Psycho Sword cuts through the darkness

Athena saves dreams

The Psycho Beam's radiance sparkles

Athena sets out on a journey to decide the future

Her eyes burn like a flame

She stares at these shards of hope

And now cannot let her tears be seen yet


*repeat


The Psycho Beam's radiance sparkles

Athena sets out on a journey to decide the future

Towards tomorrow no one knows

Take the form of a phoenix

Her eyes burn like a flame

Stare at these shards of hope

She hides the Psycho Power in her heart

To run on the endless path

Psycho power
English Version
Lyrics

Athena's name is magic

Mystery... is what you see

Her crystal is the answer

fighting fair

to keep us free

She's just a little girl with power inside

burning bright

You'd better hide if you are bad...

she'll get you

She'll read your mind and find if

you believe in right or wrong!

"Fire," "Fire..." Psycho Soldier

"Fire," "Fire..." Psycho Soldier
Releases
Psycho Soldier Music Cassette
Game Sound SNK
SNK Original Best
Legend of Game Music 2 ~ Platinum Box
Athena the Music
Credits