Nobuyuki Kuroki (黒木 信幸, Kuroki Nobuyuki) is a Japanese art and game director known for his work on several SNK and Sonic the Hedgehog games. Kuroki was born on August 16.[1]
Profile
While Kuroki didn't originally plan to become an artist, since his childhood, he loved anime, manga, plastic models and video games and, due to this, would eventually end up becoming one.[2] Kuroki originally wanted to become a mangaka, but decided not pursuing that path since he thought he wasn't talented in it.[2]
Kuroki attended an art school since he wanted to get a job related to art. While they never meet each other at the time, Kuroki and Yasuyuki Oda studied in the same art school, but, while Oda studied animation, Kuroki focused on graphic design.[3] At his school, SNK held a networking event and Kuroki fortuitously found the requirement list for SNK and eventually visited the SNK office.[2][3] A particular factor in Kuroki's interest in the company was the original Art of Fighting, from which all elements, such as the artwork, music and gameplay, were to his personal liking to the point that Ryo Sakazaki's and Robert Garcia's desperation move, the Ryuuko Ranbu, created a very vivid first memory of the first time he saw it, with the game becoming a driving force to join SNK.[2] One of Kuroki's dream projects is to create a reboot of the original Art of Fighting game since he used to play it after school almost daily and was one of the reasons for working in the industry.[4]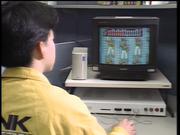 Kuroki joined SNK in 1993.[5] At the company, Kuroki was assigned to the Fatal Fury team, one of four internal teams that competed with each other within SNK.[3] His first works were to create character artworks for the muscle men at the Fitness Club stage and young Geese Howard for Art of Fighting 2, as an assistant.[2] During young Geese Howard's design, Kuroki was in his second year at SNK and worked alongside another designer, and the design was influenced by the TV special released around that time.[4] In Fatal Fury 3, Kuroki worked on his own with the Jin brothers (Jin Chonrei and Jin Chonshu), which represented a challenge for the young Kuroki as he wondered what he was supposed to do when creating characters from zero.[2] He also worked on Wolfgang Krauser in Real Bout Fatal Fury Special and Rick Strowd in Real Bout Fatal Fury 2: The Newcomers, as well as Ryo Sakazaki in Art of Fighting 3.[5]
With Art of Fighting 3, developed as a proof of concept for games using motion capture, Kuroki worked with motion capture and a Windows PC for the first time, although, in the end, much of the motion capture data was left behind due to the tweaking and character animation needed.[4]
While working in Real Bout Fatal Fury, Kuroki found that some of the poses of the characters that he thought looked cool were easy to exploit, so he polished his work for Garou: Mark of the Wolves.[4] It was Kuroki the one that proposed to take a different style compared to previous Fatal Fury games.[2] In Garou: Mark of the Wolves, Kuroki created nine characters' poses while checking and directing the others. In particular, Kuroki created the animations of Rock Howard and B. Jenet by himself and also reviewed and helped his co-workers with the rest of the characters.[2] The King of Fighters influenced Kuroki and his teammates in the depiction of leaner-looking fighters in comparison with the macho style that Fatal Fury presented, so, in Garou: Mark of the Wolves, they decided to hold back in the thicker design from previous games, which resulted in characters like Hotaru Futaba being included in the game.[4]
Kuroki worked for seven years at SNK prior to the company's bankruptcy. After leaving SNK, he joined Takashi Nishiyama and went on to work with Dimps, working prominently in several projects related to Sonic the Hedgehog in conjunction with Sega.
Kuroki returned to SNK in 2014. As art director at SNK, Kuroki's responsibilities range from creating high quality graphics to training internal staff members, with a focus on improving the 3D graphic techniques of the company.[2] After developed ended in The King of Fighters XIV and in the midst of SNK Heroines: Tag Team Frenzy, Kuroki and his team started working on Samurai Shodown (2019), mainly on graphics and visuals.[5] The experience that he and his team gathered with the development of The King of Fighters XIV and SNK Heroines: Tag Team Frenzy helped them with the development of Samurai Shodown (2019),[4] which represented the company's first foray with Unreal Engine 4.
While Kuroki knew that Art of Fighting and Fatal Fury were popular in Japan, he had no idea how big they were abroad until taking a business trip to participate in a The King of Fighters XIV event.[2] Of the many characters he has worked in fighting games, his favorite is Terry Bogard, while Ryo Sakazaki is his favorite Art of Fighting character because he used him when playing in the arcades.[4] From the Neo Geo era, he is most proud of his work in Garou: Mark of the Wolves where he was involved in most parts related to the characters.
Kuroki's main inspirations when creating artwork are manga, films and video games, as well as non-Japanese art. As a child, he used to watch Westerns since his father was a fan of John Wayne. Kuroki is also a fan of Dragonlance and The Lord of the Rings, so he also sometimes watches old films and fantasy art to get inspiration.[2]
His top three games of all time are Fatal Fury, Diablo III and Call of Duty 4: Modern Warfare.[2]
Other works
Videos
References
External links
Community content is available under
CC-BY-SA
unless otherwise noted.