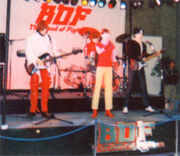 Neo-Geo World was another amusement park created by SNK. Unlike its predecessor, Neo Geo Land, this version of the park attempted to appeal to everyone of all ages with several in-door and outdoor attractions. The two parks were Neo-Geo Tsukuba and Neo-Geo Tokyo Bay Side. The Tokyo division was opened on March 19, 1999. It had a special farewell discount for passports before it shut down on March 31, 2001.
These parks were open as late as midnight.
Overview
Each park was three or four stories high. While crane games and photo print booths were still present, this park focused less on SNK's games and more on attractions made by third party developers. For a small fee, people can experience events with "suspense, thrills, horror, and mystery".
Aside from the rides, Neo Geo World also had floors dedicated to karaoke and bowling. A DJ and a cafe was added at the bowling alley to supply bowlers with refreshments. The Tsukaba division also included a rental DVD and video store on its first floor and sponsored a Mark of Wolves roulette tournament. The parks also held a high-class restaurant called Blue Heaven at Tokyo, while restaurants Reberta and the Patio were at Tsukuba. Diners could enjoy the view during their meal or play a friendly game of billiards next door while they waited. The last floor in Tsukaba was dedicated to karaoke and other live performances.
Attractions
Tokyo Bay Side
Tsukuba
The attraction part of this park was dubbed "Tsutaya".
Game Appearances
Neo Geo World is also a moniker for one of SNK-Playmore's cellphone services. It's also the current title of their games page.
See Also
External Links
Community content is available under
CC-BY-SA
unless otherwise noted.