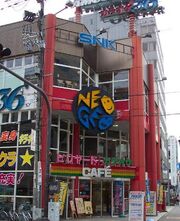 Neo Geo Land Sports Amusement
(or Neo-Geo Land) was
SNK
's largest chain of in-door amusement parks. There were three locations scattered around Osaka, the most famous of these was the one in Esaka near SNK-Playmore's current building. This particular spot was made into the company's showroom for their pachinko-slot machines and various merchandise. The parks opened sometime in 1994 and officially closed their doors on January 24, 2004.
These parks were created with hopes to make a large and friendly gaming center for all video game companies.
Overview
Each park was two or three stories high and featured an arcade floor, a karaoke spot, billiard tables, and bowling lanes. Crane games, photo print booths, MVS titles of SNK's games, and various titles from other third party companies were on the arcade floor. The second floor featured billiards, bowling, and the remaining arcade machines. The third floor usually was reserved for karaoke enthusiasts. Each park also had a mini cafe area that provided snacks and other refreshments. To expand the bowling alley for fans, a separate chain of bowling dedicated buildings was created and named Neo Geo Bowl.
Generally, Neo Geo Land is fondly remembered for hosting the location testings of many SNK titles. One of the most crowded tests was the one conducted for The King of Fighters '95, which is continually referred to by various SNK staff as one of the most successful gatherings for the series. The peak of the parks' popularity was 1997 where players from 1995's success gathered again for The King of Fighters '97's location testing. Additionally, the place became a common hang out for cosplayers and voice actor announcements for various company merchandise. Neo Geo Land became a common place for SNK to host premiere events and tournaments for their games.
SNK vs Capcom: SVC Chaos was presumably the last title to stage a location test at the parks.
Game Appearances
Neo Geo Land also used to be the name for one of SNK-Playmore's cellphone services.
Anime Appearances
See Also
External Links
Community content is available under
CC-BY-SA
unless otherwise noted.