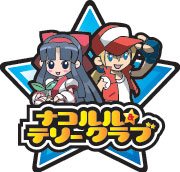 The Nakoruru & Terry Club is a social action program created by SNK-Playmore on May 9, 2004. It is a non-profit organization that supports children, hoping to inspire them for a better and more imaginative future. The club's mascots were chosen to symbolize the ideals in the mission statement.
The club's logo randomly appears in the company's pachinko slot games such as Cham Cham, KoF 2, and Super Otousan 2.
Mission
There are three goals of the club:
Assist in improving educational environment
To help battle the declining interest for children education and to keep children actively interested in school.
Support nature and organic lifestyles
Gives children hands-on experience with environment issues and preventive care, bolstering a kinder appreciation for nature.
Promote sports activities
Teaches children how to build cooperative and prosperous relationships through sports.
Originally, the club was targeted for younger boys but these ideals have been expanded to include people of all ages. Past activities have included a bamboo orchestra, planting trees, and playing sessions with wooden building blocks. Informational lessons and teaching manuals are also made for concerned teachers and mentors. Children often keep stickers, bags, and other merchandise from the club to remember the event.
Affiliates
External Links
Community content is available under
CC-BY-SA
unless otherwise noted.