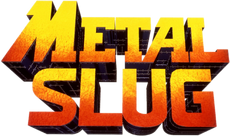 Metal Slug (メタルスラッグ) is a series of run and gun video games first released on Neo Geo arcade machines and game consoles originally created by Nazca and later by SNK. It has also been ported to various consoles, such as the Sega Saturn, PlayStation, Neo Geo Pocket Color, Game Boy Advance, PlayStation 2, Xbox and Xbox 360 and more. There is also an anthology of the first 7 games in the main series (including Metal Slug X) available for the Wii, PlayStation Portable, and PlayStation 2.
SNK staff state that Metal Slug is one of their best international hits, the other being The King of Fighters series, and they are always willing to expand the series.
Story
The first game's story involved the Peregrine Falcon (PF) Squad, a small but skilled team of soldiers serving under the Regular Army's special operations division, who fight against the army of General Donald Morden in order to prevent a massive coup d'etat and the creation of a New World Order under General Morden. Later games featured characters from the Sparrows Unit, which is under the control of the Regular Army's intelligence division. In the games following the first, the PF Squad also battles an alien threat to Earth (the Mars People), as well as several other supernatural threats including yetis, zombies, ambulatory Venus flytraps, giant crabs and mummies. Outlandish elements were removed from the fourth game to return to the feel of the original title, which resulted in poor critical and commercial reception. The fifth moved to the motif of modern guerrilla warfare, leaving only traces of the series signature quirky humor and paranormal enemies (except for the final boss). Metal Slug 6 returned to the plot of the first three installments, bringing back Morden's Rebel Army and the Mars People.
Gameplay
The mechanics of the series is characteristic of run and guns: The enemies come in hordes, the weapons have high fire rates. All of these characteristics come from the Contra series, which the game's mechanics is based on. Metal Slug however takes the concepts introduced in Contra and expands upon them. First and foremost is the ability to perform melee attacks. In most run and guns, contact with an enemy leads to immediate death. In this series, contact only results in either party's death if an attack is performed. This leads to the ability for the player to run in and use melee attacks to take down a number of troops.
Games
Main series
Remakes / Updated
Spin-Offs
Mobile Games
Metal Slug Mobile
Metal Slug Mobile: Impact
Metal Slug STG
Metal Slug Survivors / Metal Slug 4 Mobile
Metal Slug Soldiers
Metal Slug Fighters
Metal Slug Warriors
Metal Slug Mars Panic!
Metal Slug Tactics
Metal Slug M1
Metal Slug Touch
Metal Slug M2
Metal Slug Team Mission
Universal Metal Slug: Fierce Battle
Universal Metal Slug: Login
Universal Metal Slug: Tank Conspiracy
Universal Metal Slug: Triumph
Metal Slug Revolution
Metal Slug XX Online
Metal Slug: Commander
Compilations
Canceled
Pachislot
Characters
MS
MS2/X
MS3
MS4
1st Mission
Lieutenant Colonel MacBa

Colonel Hilde Garn
2nd Mission
Gimlet

Red Eye

Tequila

Lt. Wired
Kanan
Advance
MS5
MS6
MS3D
Other
Helton
Tilde
Nikita
Matilda
Victor
Amir
NPC
Mobile
Robert Nicola
Nathalie Neo
Alisa Stewart
Defense
Attack
Ptolemaios

Scotia Amundsen
Pharaoh
Red Goblin
El Dorado
Professor
Dragunov
MS-Alice
Abigail
Vatn
Yoshino
Odette
Beatriz
Caroline
Cleopatra
Vita
White Baby
Annette
Lydia
Anna Wiese
Jin
Veronica
Navy
Percier
Aileen
Nova
Elysion
Sisilia
Esther
Aswang
Destrade
Midori
Nowan
Shizuka
Rapid
Towa
Huracan
Aisha
Mira
Elena
Licht
Simon
Julia
Anastasia IV
Mello
Schwarz Metzelei
Chloe
Miharu
Izabella
Rita
Amber
Agalia
Ariadna
Perche
Nikita
Chunyan
Reika
Fedeln Metzelei
Grazia
Alma
Owen
Iron Fortress
Rillacle
Loretta
Ichima
Ami
Gemini Twins
Edda
Sho
Halle
Hemet (abbreviated as HMT)
Arsinoe
Molly
Dion
First Baby
M.D.P.S-Mz 3
Norah
Maria
Franke
Louise
Teresa
Emma
Beecham
Kelly
Ulala
Vicky
Damian
Gisee
Bonny
Achetto
Dolores
Teleko
Minerva
Romy
Lucy
Clario
Growth & Cline
Bloom Metzelei
MS-Heart
Vehicles
Combat Vehicles
Aircrafts
Mechas
SVX-17M

"Slug Mariner"

Middle-Son 1999
Support Vehicles
SVX-22UG

"Drill Slug"

Motorcycle

M-15A MLRS

"Bradley"

Metal Crow

TIAF660
Animals
Super Vehicle "Ostrich"

Super Vehicle "Donkey"
See also
External links