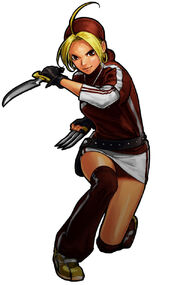 This list is incomplete. You can help improve it by editing!
In Battle
Edit
"Kakatte kinasai!" - "Come on!" (Taunt)
"Hayaku, hayaku!" - "Hurry, hurry!"
"BAKA!" - "IDIOT!" (Using Leader Desperation Move; Smashing Salamander)
Win Quotes
Edit
"I told you so. Leave everything to Marin!"
"It's not unfair! It's just my fighting style!"
"My knife, my hammer... What should I use next?"
"Ouch! I'm really PO'ed! I'm bleeding! It's your fault!"
"Hey! What if someone gets hurt with those weapons?" (vs. Chang/Maxima)
"Can't you lighten up? A winner's one who enjoys life!" (vs. Duo Lon/Leona)
"Kya, ha, ha. You're funny! What's your name again?" (vs. Shingo)
"You should really hang it up. Ma'...uh, young lady." (vs. Women Fighters Team)
Win Quotes
Edit
"OK! That's a wrap."
"I guess this year like last it's all up to little ol' me, Malin!!"
"And the winner is...the mighty babe, Malin!!"
"Oh, what a snoozefest! I'm telling you you're way too weak!"
I've got my problems, too. Don't hold this against me! (vs. Athena)
That hakama is so cool. I wish I had a body for Japanese clothes. (vs. Kasumi)
You need to get your sister in line! (vs. Ryo)
Don't call me a cheater! You just don't get it, do you?! (vs. Yuri)
Community content is available under
CC-BY-SA
unless otherwise noted.