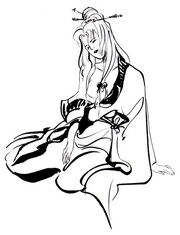 Kagaribi (篝火, Kagaribi) is a secondary character in the Samurai Shodown series. She was Basara's lover who was his childhood friend from the same village. She was a maternal figure for Basara and meant everything to him. They were only separated from each other when Zankuro slaughtered them. They were not together in their afterlife and he yearns to join her, often crying her name in battles.
She only exists as a specter, most likely a yūrei like Basara, dressed in the same yukata she was wearing whilst she was living.
Appearances
Edit
Community content is available under
CC-BY-SA
unless otherwise noted.