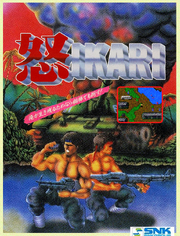 Ikari Warriors
, known as just
Ikari
(怒 -IKARI-) in Japan, is a series of run and gun games created by
SNK
. The series focuses on
Paul
and
Vince
members of the Ikari Warriors, a group of mercenary soldiers, in several of their missions. The series official slogan is "Surviving all perils even zapping your friend!" (俺が生き残るためなら相棒でも倒す!).
The first game was an instant hit when released. It focuses on Paul and Vince in their mission to reach the village of Ikari.
The sequel has similar graphics and gameplay, although the sound has improved.
The Ikari Warriors must rescue the president's daughter from the Crime Ghost. The game has improved graphics and sound.
Other Games
Edit
A mobile game that includes Leona into the series.
Characters
Edit
Introduced in Ikari Warriors
Edit
Introduced in Ikari III: The Rescue
Edit
Introduced in Leona Gekitohen
Edit