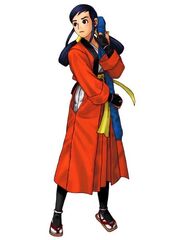 Here is a list of quotes for Hibiki Takane.
Character select:
"It is decided"
During battle:
"Please speak with me, father!"
"Bring it on!"
"Father!" 
"It's finished!"
"A new slash!" (Special movement)
"An immediate death!" (Final movement)
Aftermath:
"No, I couldn't have done!"
"It is so easy!"
"Yay, finally!"
Win Quotes
"A swordsman? Anyone with a sword..."
"Satisfied? Pops?"
"Send me home!" (Remaining life: low)
"No way! There's no way!" (1 Fatal Finish)
"This is the only way. It couldn't be helped..." (2-3 Fatal Finishes)
"I can't take it! I'm going mental!" (4-5 Fatal Finishes)
"Now... I've got it!" (6 or More Fatal Finishes)
Before Finals
"I'm prepared for anything. Now, let's begin..."
"Don't blame me! You ask for it!"
Win Quotes
"Excuse me... Please rest for a while."
"If you want to have a rematch, I'll accept it anytime."
"The speed of my sword is quicker than the eye!"
"I promise to remember you..."
"I fear nothing and no one!"
"I'm not lonely because Kodama is my partner."
"The way of lai is not easy..."
"Don't worry, that was only the back of my sword."