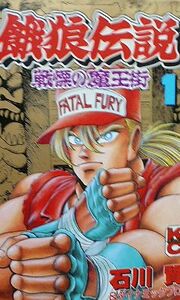 Garou Densetsu: Senritsu no Maohmachi (餓狼伝説~戦慄の魔王街~) by is a two-volume manga series for the Fatal Fury series created by Ken Ishikawa. The manga features an original story that seems to take place sometime after Fatal Fury 2. It borrows elements from Bon Bon Garou and the first OVA but adds demons and occult mediums to the mix. Like the former book series, this manga was illustrated for younger audiences. Due to the similarities in story telling and pacing, some fans consider these books as the spiritual sequel of Bon Bon Garou.
Plot
Hearing news of demons plaguing the Hakkyokuseiken dojo, Andy leaves his friends to investigate it. To his shock, the rumors are true and the demons' overlord is the formerly deceased Geese. Using his troop of seven demon lords, he imprisons the younger brother and hopes to make him one of minions. Worried about his brother's absence, Terry teams up with Joe, Mai, and Big Bear to battle the undead forces and rescue Andy.
External Links
Community content is available under
CC-BY-SA
unless otherwise noted.