GTA: The Criminal Enterprises - The Loop
Play Sound
Tatsuhiko Kanaoka, better known by his pen name Falcoon (ファルコン), is a Japanese artist that has been working with SNK since 1998. Falcoon has been involved in several iterations of The King of Fighters franchise and was directly in charge of the Maximum Impact series. His alias is also the name to a location in Kimino Yusha.
After leaving the company and working freelance, Falcoon currently works as art director and illustrator in the SNK Entertainment division since 2017.
Profile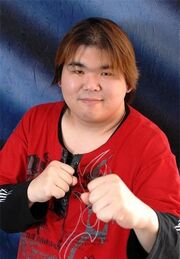 Falcoon was born on 1976-01-06.[1] While Falcoon went to art college, he started drawing when he was a child. According to Falcoon, he learned to draw and to improve his skills by himself.[2] Starting his career as a fanartist, Falcoon joined SNK in 1998 after an interview.[2] Falcoon worked as a designer when he joined SNK, doing pixel art for several games, such as The King of Fighters, before being asked to work as illustrator.[3]
By 2005, Falcoon, besides his duties as an illustrator, was working as the producer of KOF: Maximum Impact. Soon after SNK Playmore returned to the SNK brand, Falcoon was attached to the SNK Entertainment division as art director and illustrator by 2017.[4]
Style
For illustration, Falcoon solely uses Photoshop.[3] His art is recognized by its heavy emphasis on muscle and weight for both genders (the proportions vary though it has a very anime-like influence), shaded with sharp gradients and highlights. His designs are also influenced by the bizarre yet colorful clothing found in Japanese street fashion, particularly Lolita and Fruits fashions. In several interviews, he insists that, while he looks at books, movies and magazines for inspiration, he prefers create from his own mind because he worries he'll get too influenced,[3] so he uses no reference for his work, relying only on "strong images from memory". He was once an avid gamer and loves to visit the local game center on his time off. He hopes to make games where people can practice them like a sport and "perfect their skills like I used to." Falcoon claims that, after becoming a professional illustrator, he no longer looks after other illustrator and prefers to consider them competition since he fears it would influence him too much.[3]
SNK works
Gallery
Videos
References
External Links