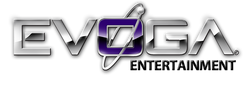 Evoga Entertainment
 (acronym for Evolution Games) was a Mexican company dedicated to producing video games, beginning operations in 2000. The company's most widely known game was 
Rage of the Dragons
, in which Evoga planned and designed both the game and the characters and handing off development to the 
Noise Factory
 in Japan and publishing to 
SNK
. This was also the first Japanese-Mexican collaboration of its kind. Evoga began bankruptcy procedures and ceased operations in 2004.
History
Evoga was created in 2000, in Mexico City, as a company that would help
BrezzaSoft
in its new games for the Crystal System. Its members already had experience in the sector, as they had previously been hired as official SNK testers, testing new releases and helping to decide the level of difficulty the game should have, or the starting price of the cartridges.
The company is one of the first companies outside Japan to develop games for the Neo Geo platform. They worked on developing Evolution Soccer for Breezasoft's Crystal System, a soccer tournament with Mexican and international leagues. Its biggest job is the fighting game Rage of the Dragons.
Due to financial problems, the company closed down in 2004. Several of its members would continue to be involved in the creation of pachinko, pocket and black jack games to the Mexican market.
Games
External links
Community content is available under
CC-BY-SA
unless otherwise noted.