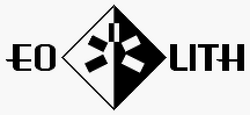 Eolith (이오리스) was a Korean based fighting game company founded on April 30, 1996 that is best known for having the intellectual property for The King of Fighters series after SNK's bankruptcy. The games they produced were The King of Fighters 2001 and The King of Fighters 2002. Their main goal while creating these games was to create a "real fighting environment" which tapped into the full potential of the games' roster. Another goal from the staff was to encourage perfectionism while challenging both newcomers and veterans of the series.
The company became associated with M-Dream in 2003, and they went on to create various mobile games. On June 3, 2005, it was purchased by another company called Netbrain, transforming it into a network equipment and solutions company, later integrated and thoroughly restructured into the pharmaceutical company Neurotech. However, M-Dream broke up in that process and became a company launching mobile games in China until 2007. In May 2008 a new company appeared under the name Neolith, and apparently appears to possess at least some properties of Eolith.
Even so, several fans debate the possible copyright issues over the original characters made for these titles (namely with Angel, May Lee, and K9999). Currently, no official statements have been made by SNK-Playmore though Nameless' creation has sparked some renewed interest on the matter, however, due to Angel's appearance in The King of Fighters XIV, it appears that SNK has the rights to use the characters.
Hidden Catch
Iron Fortress
Linky Pipe
Puzzle King
Raccoon World
Hidden Catch 2
KlonDike+
Land Breaker
New Hidden Catch
Penfan Girls: Step1. Mild Mind
Hidden Catch 3
Steal See
Fortress 2 Blue Arcade
Crazy War
BnB Arcade
The King of Fighters Mobile - parts 1 + 2
Samurai Shodown Mobile
External Links
Edit