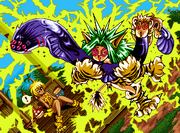 Chona Chona (チョナチョナ) is a character introduced in the Samurai Shodown RPG. It assumed that she is an original character made only for the RPG since she doesn't appear to be mentioned in any other media. She is voiced by Akiko Tanaka.
She is Cham Cham's best friend and is accredited to creating her friend's characteristic cat ears and gloves. Chona Chona wears a matching pair to complement her. A normal villager in Green Hell, she usually plays with her friend when she's around.
If Cham Cham is the main protagonist in the second chapter, Chona Chona will be stricken by an unknown illness. Though she is happy to see her friend, Chona Chona knows that she cannot get her strength back until she eats some electric eel. Without a second thought, Cham Cham temporarily leaves her party to fetch her a large catch. Once she brings it to her friend, Chona Chona regains her health and thanks her friend for the trouble.
Community content is available under
CC-BY-SA
unless otherwise noted.