GTA: The Criminal Enterprises - The Loop
Play Sound
BEAST BUSTERS featuring KOF is a action shooting mobile game released by SNK Playmore on December 22, 2014 for iOS and Android devices. This game is a crossover in celebration of the 25th and 20th anniversaries of the Beast Busters and The King of Fighters series, respectively. Beast Busters featuring KOF has ended its service as of October 29, 2015.
A pachislot machine based on this title was launched in 2015 in Japan.
Story
An organization called Anastasis nad been doing research to create super-soldiers as part of their plans lor world domination. One day, a young scientist working for Anastasis succeeded in an experiment to revive the dead as monsters.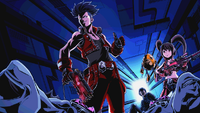 Once revived as monsters,
these people were far stronger than they had been while alive and were called "Beasts".
Anastasis revived experienced wnrriors from every corner of the world from their eternlal sleep to create their own Beast Corps.
Seeing the gravity of the situation, the government dispatched a mercenary team to deal with the problem by destroying Anastasis.
This team at mercenaries, the Beast Busters, intends to destroy Anastasis.
Characters
Gallery
External Links
Trailer