GTA: The Criminal Enterprises - The Loop
Play Sound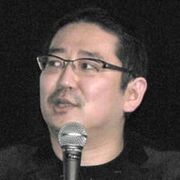 Akihiko Ureshino (嬉野 秋彦, Ureshino Akihiko) is a light novel author, born April 19, 1971 in the Tochigi Prefecture, Japan. He wrote his first novel while he was attending Yokohama National University for a degree in Liberal Arts. He is known to Japanese SNK fans for his game novelizations of The King of Fighters series and other games. He also partakes in the story development for the series, and is the one who usually writes the online novels found on the games' websites. Ureyusa Blog is his official blog for the development of KOF: Maximum Impact 2 and Ureshino Chronicle is his personal blog. His older blog can be found here. He also has a twitter account which can be viewed here.
His novelizations for SNK are known to fill in the gaps left unexplained in the game scenarios or drama CDs. This was how fans were able to confirm facts such as Whip being a clone of K's sister, and the Yasakani's ancient grudge against the Kusanagi. Aside from his game novelizations, Ureshino's original work spans from fantasy, comedy, and romance stories.
In an interview, Akihiko stated that after he wrote The King of Fighters 96~2001 light novels, he was asked by a production company to write a novel on The King of Fighters 2003. However, the project ended due to a loss of communication with him.[1]
SNK Work
Light Novels
A short synopsis, tiny cover illustrations, and ISBN numbers for these novels and other Famitsu game novelizations can be found here.
The King of Fighters '96 ~Rumbling on the city~
Illustrations by Yuka Ichinoshita
The King of Fighters '97 (Upper) ~Owari Naki Natsu no Saigo ni~
Illustrations by Rui Shibasaki
The King of Fighters '97 (Lower) ~660nen Hi no Futari~
Illustrations by Rui Shibasaki
The King of Fighters '98 ~Nokosareta Monotachi~
Illustrations by Kotomi Tobashi
The King of Fighters '98 ~Saidai Tasuu no Saidai Koufuku~
Illustrations by Kotomi Tobashi
The King of Fighters '99 ~BEYOND THE "K"~
Illustrations by Kotomi Tobashi
The King of Fighters 2000 ~ICICLE DOLL~
Illustrations by Kotomi Tobashi
The King of Fighters 2000 ~STRIKERS STRIKE BACK~
Illustrations by Kotomi Tobashi
The King of Fighters 2001 (Upper) ~MORE THAN HUMAN~
Illustrations by Hiroaki Hashimoto
The King of Fighters 2001 (Lower) ~THE GODS THEMSELVES~
Illustrations by Hiroaki Hashimoto
Illustrations by Yuka Ichinoshita
Illustrations by Kotomi Tobashi
Illustrations by Kotomi Tobashi
Gallery
External links